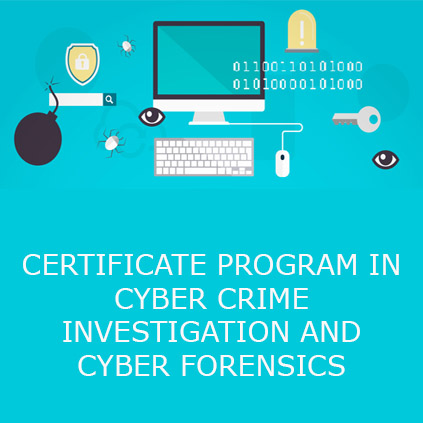 WORKSHOP IN CYBER CRIME INVESTIGATION AND CYBER FORENSICS
Digital evidence plays a very pivotal role for conviction. The increase in cyber crimes has given a torrential rise of cyber security breaches and hence this program shall not only help you in securing digital information but also make you an expert in forensic examination of digital devices required in the court of law
Investigating cyber crime is solely dependent on capturing digital footprints from secondary and primary devices connected to our network. This course shall provide you adequate information in recovering digital evidences from desktops, laptops, mobile phones, social networking sites etc. This course is beneficial for all those who want to make a career in cyber crime domain especially in banking, manufacturing, engineering, telecom, education, pharmaceuticals, retail traders, hospitals, finance, sales, marketing, legal, law enforcement departments etc.
COURSE CONTENTS
Internet Fundamentals
Types of Cybercrime
Identifying Genuine and Fake mails
Root Servers
Email Investigation
FIR registration, Chargesheet, Evidence collection 
Plagiarism 
Investigating Social Networking Frauds
Investigating Online Banking Frauds
Cryptography, Steganography
Digital Signature and its usage
Cyber Forensics
Seizure of Devices
Cyber Crime Scene Processing
Forensic Duplicators-Tableau TD3
Data Recovery
Accounting Forensics
Advance Forensic Toolkits
Password Forensics
Introduction to Mobile Forensics
Investigative Interview Techniques 
Cyber Law
Trade mark, Copyright, IPR
Our well-trained and experienced trainers who worked on live practical cyber crime matters.
I am not from IT background can I go for "Workshop in Cyber Crime Investigation & Cyber Forensics"?
Yes, you can do this course provided you have basic computer operations and networking knowledge. The course shall cover the basic aspects and then touch upon specialized and core topics using case study approach.
Can I go for "Workshop in Cyber Crime Investigation & Cyber Forensics" after doing Workshop in Cyber Crime Investigation?
Yes, you can go for the advance program by paying the differential fees of Rs 15,000.
What career prospects i have after doing this program?
1) Cyber crime investigator
2) Cyber forensics specialist
3) Associate cyber crime investigator
4) Principal Consultant
5) Strategic analyst in cyber forensics
6) Subject matter expert
7) Trainer
8) Data recovery specialist.
Will i get live cases to work on during the training program?
Yes, you shall be assigned live cases in a simulated mode and shall be aware of world-class investigation techniques for capturing the digital footprints of the hacker.
What are the deliverable on completion of this course?
1) Workshop
2) Live internship and exposure to live case studies
3) Placement assistance
4) Completion Workshop on completion of internship programme
Will I be provided any job guarantee after this course?
IQSS shall assist you, however no organizations guarantees a job it only depends on you and your performance.
Can I get any discount in the fees?
For students there is 10% discount provided they show their college identity card while taking the admission. For government employees there shall be 15% reduction in the fees.
I do not have a laptop, is it necessary that I have to carry a laptop for the course?
No, it is not at all necessary, we have a lab specifically for the practice with all the software's installed, and you can practice it in the office as and when required by you, so there is no need of you to carry your laptop.
Can I mention about this course in my resume?
Yes, you can definitely mention about this course in your resume as it will help you be one step higher than others. You have an internship experience of working on live cases which shall be highly beneficial in getting the job of your choice.
If I miss any topics due to some reason, will the topics be covered?
Yes definitely, if you miss out the session you will be taught that topic separately, also if you have any doubts that will be solved.
Will I be getting internship letter after completion of the internship?
Internship will be a part of your course. You will also get a separate Workshop.
What career prospects i have on completion of these courses?
According to Ministry of Information Technology there is requirement of 10 lakh cyber security professionals and also 1,000 cyber security start-up companies. Every vertical in the corporate, government and semi government shall require cyber crime investigator.
How IQSS course is different from other institutes?
Our courses are according to the laws of the land and hence shall cover all aspects of cyber crime investigation and the best procedures implied to investigate a cyber crime. We are the only organization in Maharashtra to train cops, judicial officers, public prosecutors and all government entities. Other than government institutions we also train corporates and have the distinction of working on live cyber crime cases from 7 countries worldwide. Our practical approach is focused in the delivery of the program we do for the participants who enroll for the program. Moreover, we provide live internship and a holistic approach for candidates to work in real cyber crime cases on completion of program.